BSA Red Dot - Paintball Scope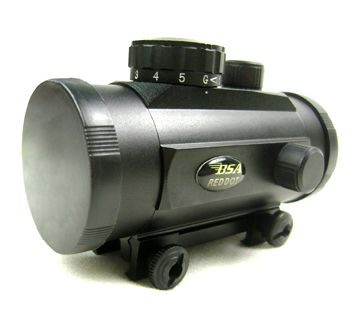 The BSA 45mm Red Dot Scope is perfect for what I need. Paintball Guns are not accurate enough in my opinion to mount a real magnification scope. With that said I still would like to try a 2x or 4x power on my paintball gun just to find out.
This BSA Red Dot Review is written after almost a years worth of play. I encountered a problem mid way through the year but I'll explain that in more detail.
The BSA Red Dot Scope does not have any kind of magnification qualities. BSA Red Dots in this size (45mm) are usually mounted to pistols of real firearms to help the shooter see the dot. I choose the biggest more affordable red dot I could find so I could keep as much of the field in view. The last thing you need to do when taking a long shot across the paintball field is for your target to go out of sight because you raise your paintball gun to compensate for distance. With the 45mm I can still see the target and my hit location without moving my head or eye.
After playing with a red dot, I would never want to play without one. I use a CCI phantom I use a CCI Phantom as my primary paintball marker. When you only have 1 shot it MUST count.
Anyway back to the BSA Red Dot Review. My model I purchased from ebay for under $35 shipped. It took a few weeks but it arrived and I was super delighted. I mounted it and sighted it in when I arrived at my local field.
The dot generally stays on target and I do not have to do much to sight in dot but it is something I need to check every time I get to the field, I think it could be my rail adapter is slightly loose and when the gun gets shaken up it may need a slight adjustment now and then but for a paintball gun it has been staying focused right where I need it.
After about 3 months of playing I finally took a direct hit to the BSA Red Dot. I didn't think much of it at the time as I had taken some paint there in the past. When I got out of the game and into 'clean gun mode' I noticed that the front lens was broken and paint was all over the inside of my site.
I was pretty bummed because I loved that site so much. I decided I would try to see if I could get some replacement lens. After looking around all I could find was someone in the UK to ship me some acrylic lens for more then I paid for the paintball scope itself.
Upon visiting my local hardware store I found a sheet of Lexan Which is 200+ times stronger then glass for about $3 USD. I purchased it and figured I would try to cut my own lens. Well, it took about 3 hours and alot of patience to finish but the final product turned out to be so much better then I had anticipated.
Everytime I play paintball you will not see me on the field without my BSA Red Dot paintball scope! I give it a 7/10 since it partly broke.