My Paintball Cannon
A Paintball Cannon is a wondrous thing. There is nothing better then being able to launch a large projectile or multiple smaller projectile some serious distance!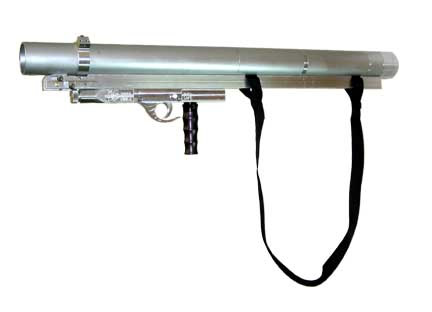 Alias MKX Scenario Rocket Launcher
(Above image is for a paintball cannon for sale, not my custom cannon as described below)

This webpage showcases paintball cannons and the joy of using them as a primary marker, I list some simple instructions and tips on how I built mine, but in NO way is this page meant to be a complete instruction of how to build a paintball cannon. Due to the danger of compressed gasses and the chance of explosion Paintball Review World releases themselves from anything you decide to do.
About 4 years ago I made a Paintball Cannon, My first attempt was to make it all concealed in one long tube bazooka style. When I realized that I need more then just a tank and a barrel I moved to a larger heavier style.
I was working with threaded metal pipe instead of PVC (which has a psi rating of 280) and I did not want to risk plastic shrapnel all over myself.
I connected my Co2 tank through a remote line near the pressure gauge and had 2 valves, one to release Co2 into the pressure chamber which was located on top, and then a second valve to release the pressure into the barrel of the paintball cannon.
I added a gauge to the pressure tank and found about 80-90 psi was the best performance for my barrel. My design was 2" for the expansion chamber and equal for the barrel.
I added a breach loading to the barrel and figured out a system that I can hold extra rounds in pods to load the cannon in less then 7 seconds.
With a guitar strap firmly in place I was ready for combat. I didn't have a good wadding for paintballs so I used water balloons instead and filled them with flour and water coloring. (do not store these balloons for to many days else the flour will expand and the balloons will explode.
Have you built a Paintball Cannon?
Share it with the rest of us!
Back to Paintball Review World