Tippmann Custom 98 Power Pack
The Tippmann Custom 98 Power Pack is one of the best deals on the net if you are looking to get started in Paintball.
The Tippmann Custom 98 has been one of Paintball's most popular choice for entry level players. The Tippmann Custom 98 is a re-design from the Original Model 98. While still having the same appearance, the Tippmann Custom 98 has some internal upgrades that make it perform to the high standards that Tippmann has.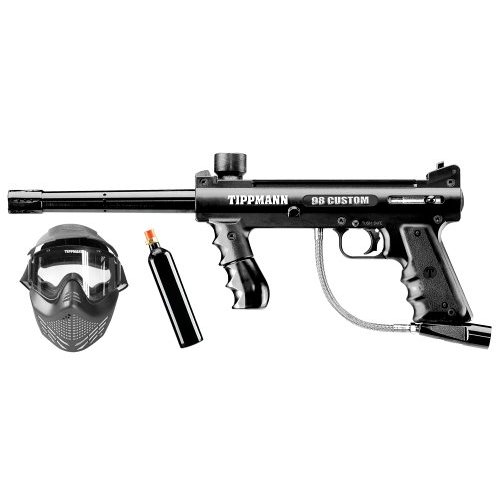 Tippmann Custom 98 Power Pack
Compared to the compitition that Tippmann has out there today, they have come a long way and are not stopping with their unique innovation that has earned them some serious reputation.
The Tippmann Custom 98 Power Pack includes:
- Tippmann Custom 98 with ACT (Anti-Chop Technology)
- 200 Round Hopper (Standard)
- 9oz Co2 Tank
- Co2 Shoulder Butt Plate
- Tippmann Goggles with Anti-Fog Lens

If you are considering getting a Gift Pack to someone that just started paintball, this is the one! Tippmann has some of the highest in quality standards that I have seen in paintball. Best of all their guns WORK!
Also a great feature is the ability to upgrade Tippmann guns. Hundreds of third party manufactures have jumped on the modification band wagon and have created new products for the Custom 98. And they still are! You can make your Tippmann Custom 98 look like an M-16, Ak-47 or set it up for speedball with an electric trigger and drop forward. The possibilities are endless!